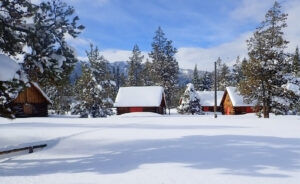 The Cascade Lake 4-H Camp Board would like to wish you a wonderful Christmas. After being unable to host campers last year, we were happy to have campers return in 2021! We did have to limit numbers but had campers at Camp!
We were able to work on several maintenance projects: finishing the accessible path to the archery range along the nature path, the new sprinklers for the yards now work great, and we finished new shutters for the cabins. We appreciated the volunteers that were able to help us with their time. Thanks also to those who donated funds to help!
The Cascade Lake 4-H Camp Board is dedicated to providing a safe, comfortable facility for youth and families of all capabilities that will enhance their educational experience of healthy recreation in a natural environment.
As you consider options for year-end giving, we appreciate any support you can provide to help us accomplish our goals.
Stay healthy and safe and enjoy the holidays with your family and friends.
Happy camping,
Cascade Lake 4-H Camp Board of Directors