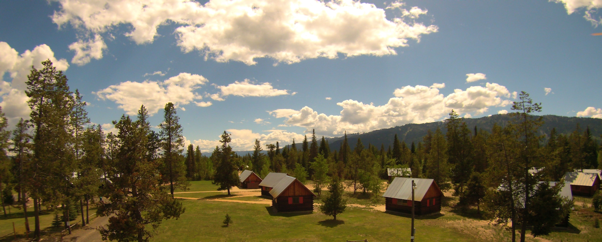 Whether you're interested in family reunions, corporate retreats or youth group activities, the Cascade Lake 4-H Camp is a great venue for your group!
CABINS: 15, each of which sleep 13 people. Two cabins are handicap approved.
LODGE/DINING HALL: What a rustic place to dine — family style. We have a wonderful head cook who is most eager to work with you. Upon arrival, a designated person will meet with the cook to finalize meals, etc. The outdoor cooking/barbecue area is another place where the family or group can get together and roast hot-dogs the way you like them.
AMPHITHEATER: Nestled among the pines with beautiful views of the lake and mountains, the amphitheater is a great multi-use facility.
RESTROOMS/SHOWERS: Three multi-person handicap accessible facilities.
CAMPGROUNDS: Includes areas around cabins, restrooms, lodge, waterfront, and campfire. Fifty six acres with one mile of shoreline on beautiful Cascade Lake.
HORSE CORRALS: Camping groups who bring horses are responsible for the feeding of their animals. Horses are to be ridden in designated areas.
RECREATIONAL ACTIVITY FACILITIES: Horseshoes, softball field, volleyball, basketball, fishing, boating/canoeing, archery range, swimming
NATURE TRAILS: You're invited to go for a nature walk along the many trails at camp. Since the camp is located off the beaten path of heavy traffic, you'll find your walk most rewarding. But you should always be on the lookout for poison ivy, etc. The trails are still in a "wild" state. You'll hear numerous birds and encounter a forest bed of wild flowers which you may enjoy trying to identify.
Save